How to enjoy these plays?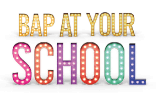 Synopsis
The story is narrated by the M.C in simple and short rhymes. Chippy, Choppy the Clown's son, has lost his smile and his dad's jokes seem to only make him grumpier. Choppy is very concerned and sad about this and He takes Chippy to visit all the performers at the circus to see if they have got his smile or if they can help him find it. But Chippy is a bit naughty with all the ones that are trying to help him and he plays tricks on them, and says he won't find his smile with them. They all try and try, but Chippy smile seems to be gone for good. Chippy is sad because he feels he can't be a good clown, or a dancer, or anything, but his father explains to him that he can be anything he wants, but he has to work hard to do it and he teaches him some jokes. Chippy realizes how much they all love him in the Circus and that his smile had been with him all the way, he just had to remember to get it out there.
MORAL: NOTHING WILL MAKE YOU HAPPIER THAN SHARING YOUR SMILE WITH THE ONES YOU LOVE!
Genre Puppet Show / Musical Comedy Length 45'